Armoires coupe-feu pour tableau électrique.
PRIOELEC ES free-standing electrical cabinets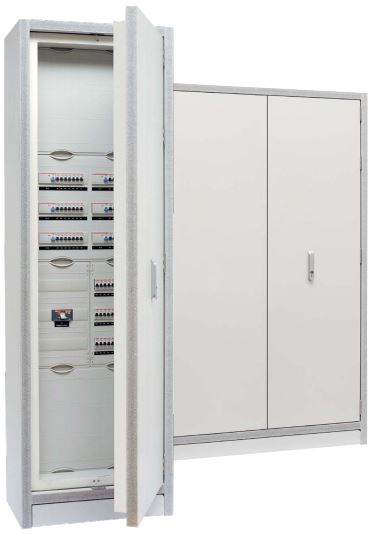 PRIORIT free-standing electrical cabinets in single-leaf and double-leaf design, suitable for a smoke-tight and fire-resistant separation of electrical distributors in rescue routes (fire load insulation).
The housing is made of non-combustible building material class A2 – s1 d0. As standard, cabinets are equipped with a ventilation system in the rear wall, top and bottom cable entry and a changeable door stop from DIN R to DIN L. The inside dimensions are based on the electro-technical standard distribution panels and mounting plates.
Function
Fire resistance of 30/90 min, fire-retardant, fire resistant
Classification: suitable for fire load insulation of 30/90 minutes
Smoke protection
Protection rating according to IP 42
Safety class II
Construction
Empty case with high mechanical and chemical resistance
Ventilation system in the back of cabinet
Door can be unhinged for weight reduction during transport
Door stop changeable on site, DIN right/left
Door closes flush with body, opening angle ca. 180°
2-point door locking device with turning lever and single cylinder
Circumferential fire seals automatically expand in the event of a fire
Cable entry top + bottom
Cable bulkhead for insertion of single or multiple cables
Cable channel on top for 90 minutes fire resistant.
Plinth with ground clearance for easy lifting, with removable front panel.
Attachment points for electric installations.
Tilt safety device on housing through mounting links at the top.
Material characteristic
Building material with surface coating non-combustible, classification A2 – s1, d0d0
Standard surface HP laminate is chemically highly stable and moisture-resitant
Colour light grey, similar to RAL 7035, edges and bevels in different colour
Dependency of fire classification/ventilation system
Fire load insulation of 30/90 minutes by closing the ventilation systemem
Fire load insulation, cold-smoke-tight over 30/90 minutes with artificial ventilation and smoke-detector controlled shutter system: EBEL:VENT0 + EBEL:NETZ + EBEL:VENT-RM
PRIOELEC EH hanging electrical cabinets